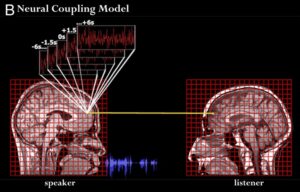 An article in the Proceedings of the National Academy of Sciences of the USA, "Speaker–listener neural coupling underlies successful communication," reports on some wonderful work done with storytelling to highlight the ways in which the brains of speakers and one or more listeners "couple" when a story is being told. The paper, authored by Greg J. Stephens, Lauren J. Silbert, and Uri Hasson, was published in 2010, and you can read it in full here.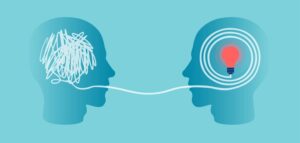 The basic finding is this: when the speaker is telling a story in a language the listener understands, then the listener's brain activity is "coupled" in both space and time with the speaker's. In fact, while the listener's brain activity usually follows the speaker's – in other words, the speaker is creating their communication before the listener receives it – sometimes the listener's brain activity precedes the speaker's. This means that the listener is accurately anticipating what the speaker will communicate it before they actually do. This is not uncommon, by the way – I think we all know some individuals who either mouth or speak our words before they actually leave our mouths.
More importantly, but not surprisingly, comprehension of the story is directly related to how strongly coupled the listener's and speaker's brains are.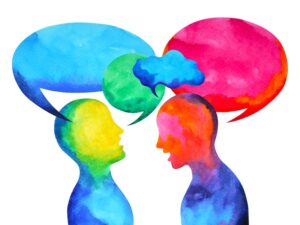 Now, one thing of particular interest in this study is that the researchers looked at two different areas in both brains: speech production and speech comprehension. Previous studies of speech and brain activity tended to look at only one brain, and at one activity – producing or comprehending speech. This study looks at both activities in both the speaker and the listener, which mirrors the experience of many storytellers – we are both creating and understanding the story as we tell it. That the listener should also, therefore, be both creating and comprehending speech as they listen should be of no big surprise.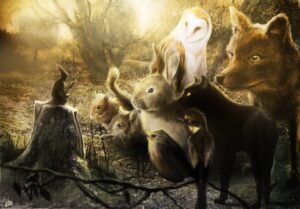 Finally, as a storyteller, I know that my stories contain far more than what I am consciously aware when I tell them. They are working outside of my consciousness, carrying meanings I may or may not intend, and invoking meanings in my listeners that may also live outside their immediate awareness. What this research means is that those meanings are also resident in some form in my brain activity – and part of what is being "coupled" in this process. In other words, the rich depths of stories pass between us in ways we will never consciously appreciate, in ways which are perhaps hinted at in fMRIs (Functional magnetic resonance images).
Intrigued? Learn more about our school!
or drop us an email if you have any questions.