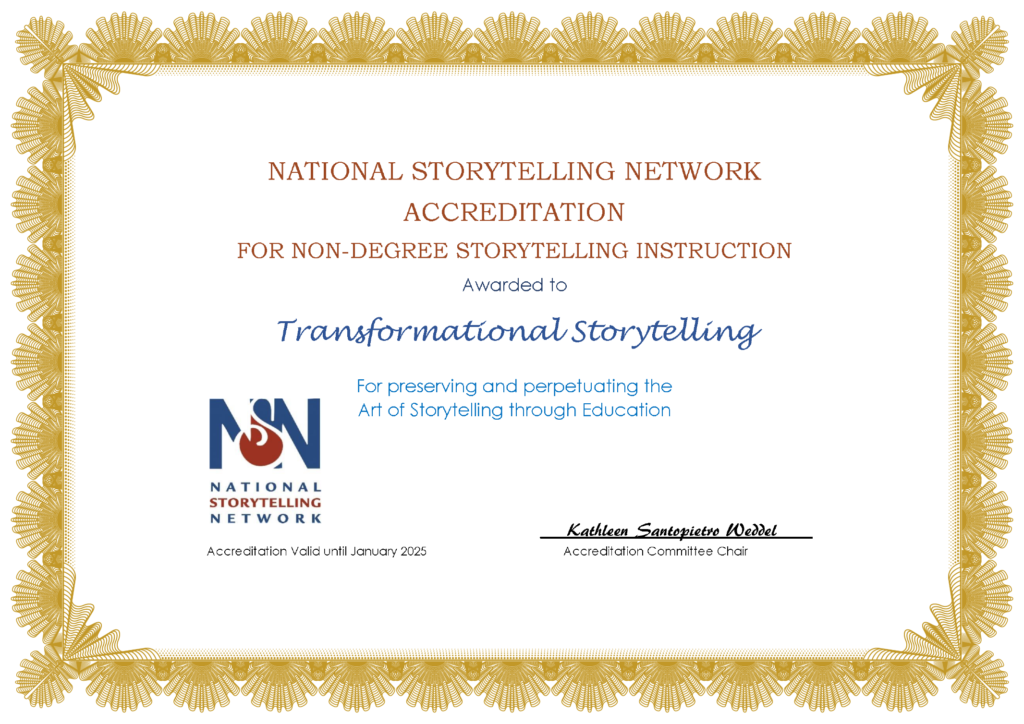 Registration Closed
We have a full cohort of students, so at this time registration is closed. Please consider one of our short courses or individual coaching. Thank you!
What is this program?
The Transformational Storytelling training program is dedicated to developing your skills and spiritual depth as a transformational storyteller: someone who inspires change through stories and spiritual guidance.
The program has foundations in the Jewish tradition of maggidut: the art and practice of being a spiritual storyteller and guide. However, it emphasizes the requirement that we encounter inspiration and spirituality from a multitude of perspectives, not a solitary point of view. As such, our faculty and content represent a wide variety of cultural and spiritual traditions, as does the student body.
Who is it for?
The program is designed for anyone ready to use stories to inspire and transform others – and themselves. Students identify as storytellers, clergy, teachers, doctors, lawyers, and educators: simply anyone who recognizes the power of story, and wants to become skilled at inviting transformation through story.
Recognizing the need for a multi-tradition approach, I have regular guest faculty from a variety of religions – you can read some of their biographies here.
What does the program assume?
We recognize both the common values that underpin all faith traditions, as well as the variety of practices and forms that are unique to each tradition. The more we open up to different – especially unfamiliar – expressions of faith and spirituality, the more we can deepen our own spirituality and faith traditions.
This is noble, challenging, and ultimately deeply transformative work, both for the "tellers" and the audience. As such, it requires facility in and knowledge of one's own tradition, other traditions, and the art and science of spiritual storytelling. Additionally, the development of these skills both requires and results in personal spiritual transformation.
How does it work?
To accomplish this, Transformational Storytelling is a two-year experience divided into four semesters. You can find the contents of each semester here and the overall schedule here. You may request more information by email.
There are four themes that are explored throughout the program:
Multifaith foundations
Storytelling – Immersion
Spirituality / Mysticism
Storytelling – Performative
There are two semesters a year. Each semester is made up of ten classes – approximately every other week – which is followed by an optional (but highly recommended) weekend of face-to-face study and public performance. These weekends are located to meet student needs, and are made available virtually for those students unable to attend.
Additionally, spiritual direction takes place in private one-to-one calls, once per month. This is included in the tuition, and is necessary to further integrate the deeper work that must be done when becoming a transformational storyteller.
How much does it cost?
Tuition is $750 / semester, which includes the ten classes, retreat, and monthly coaching with me.  (Transportation and lodging are not included). I can accept checks (which I prefer), PayPal, and credit cards. Please contact me before making payments. Also, a small number of scholarships are available, based on need and fit. Note: while the tuition may rise for new students in the future, you will never pay more than your first semester's rate for any future semester.
I have a no-questions-asked satisfaction guarantee. If, up until after the second class, you find this isn't working for you, I will give you a complete refund. Just ask. (In the five years I ran the school pre-pandemic, I only gave one refund – and that was for an illness).
Finally, there is no financial commitment beyond one semester. If life intervenes, I will understand!
Important Links:
Please contact me with any questions at JimBrule@TransformationalStorytelling.org!