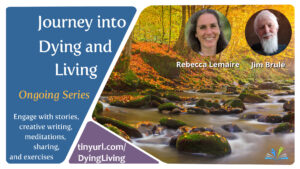 Rebecca Lemaire and I are offering an ambitious series called Journey into Dying and Living. This is made up of four five-week sessions, each addressing a different aspect of dying and living through storytelling (with a variety of different modalities for interaction). Class size is limited to 15 to allow for the richest experience. Students enroll in one five-week session at a time.
Students will work on a creative presentations throughout each sessions which will be shared in the final week. It might be a story, a poem, a song – anything that individuals are moved to create.
You can always find out about these and other upcoming classes in the events calendar.
We look at stories that explore ways in which we may move between the living and the dead, embrace grief, and transform loss. Participants engage with the stories through creative writing, meditations, sharing, and exercises, in groups and individually. The final week of each session provides an opportunity for participants to share their own creations with the group.
---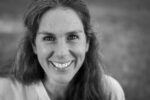 Rebecca Lemaire is an international storyteller and teacher. Her passion is to look into people's eyes, and travel with them through stories, whether in a prison, a yoga school, a Tibetan monastery in the Himalaya, a theatre, or a library. One aspect of her work is to lead and co-lead workshops in which stories are used as prompts to explore death and dying. She is a Reiki/sound healer and is an active participant in the group 'Vivir y Morir' in Spain, in which the taboo about death is overcome through discussions, practical and spiritual preparation, movies, poetry, and stories. Rebecca says, "Storytelling is a form of communication that goes way beyond words; it is a heart-to-heart interaction, which can create spaciousness and healing". https://www.rebeccalemaire.com/
http://www.holisticwellbeinginternational.com/
---

Maggid Jim Brulé is a transformational storyteller, death doula, Reiki healer, and the founder of Transformational Storytelling, of which this series is a part. He also works with organizations and communities to bring the power of storytelling to healing the fractures which so often divide us around race, class, faith tradition, and culture. Jim believes that the right story told in the right way with an open heart can heal wounds and change lives.