The Heart Knows
July 27 @ 5:00 pm

-

July 30 @ 10:00 am

EDT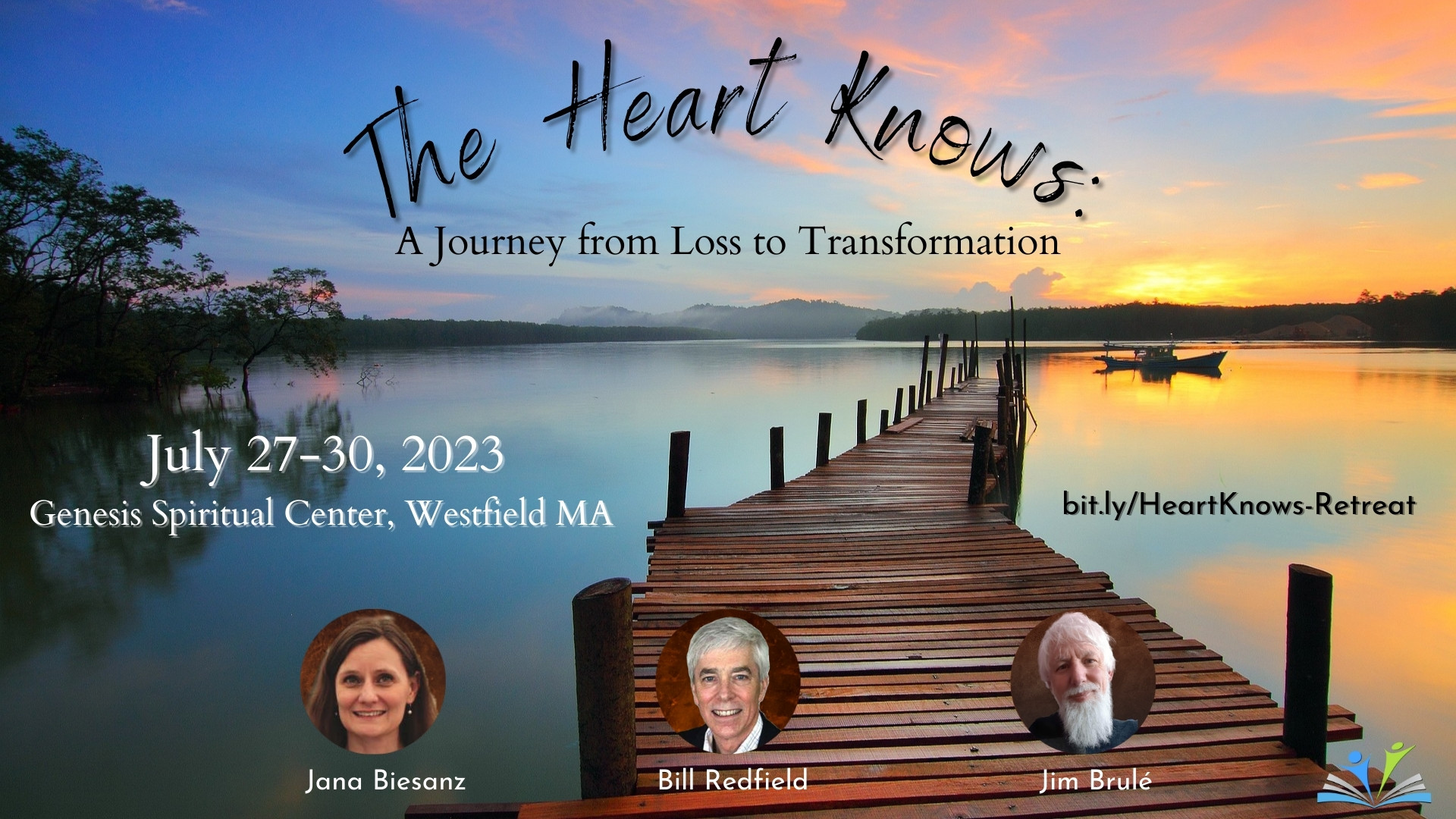 The Heart Knows:
A Journey from Loss to Transformation
Are you ready to embark on a powerful journey of healing and growth? Join Jana Biesanz, Jim Brulé, and Bill Redfield for a transformative three-day residential retreat where you will discover new ways to hold and transform the weight of your grief and sorrows.
Together, we will create a supportive and nurturing community, where we will witness and uplift each other on this journey toward healing. Through empowering presentations, engaging small group discussions, invented rituals, and moments of quiet reflection, we will chart a path toward a deeper understanding and relationship with our deeper selves.
We will embrace this process with open hearts and minds, knowing that we have the strength and resilience to emerge stronger and more grounded than ever before. Join us in this powerful journey of transformation and emerge with newfound courage and hope.
We will gather for dinner on Thursday, July 27, and end after breakfast on Sunday, July 30 at the Genesis Spiritual Life Center, 53 Mill St, Westfield, MA. Everyone is expected to arrive on time and stay through the retreat's conclusion. Starting with Thursday dinner, all meals will be provided. Single and double rooms are available; there will be vegetarian, dairy, and gluten-free options upon request. Be sure to make your meal selection when you register.
—
Maggid Jim Brulé is a transformational storyteller, healer, coach, and death doula. His stories and students span the globe; his online storytelling school has been operating for years. Stories filled with challenge and mysticism fill his repertoire as he inspires his audience to change. Jim believes that the right kinds of stories told with an open heart can be the basis for healing the rifts within us and between us.
https://TransformationalStorytelling.org/ | https://LovingTransition.com/
Rev. Jana Biesanz is an Interfaith minister and chaplain, with an MFA in writing from Lesley University and a background in contemplative end-of-life care, hospice and clinical hospital chaplaincy. She is the Director of Mission Outreach and Education for Francis House, a social-model home for people with terminal illnesses in Syracuse, NY. Rev. Jana provides community education and workshops on end-of-life care, spirituality, death and dying and grief and bereavement. She brings 15 years of contemplative training and practice to the spiritual care and education she offers.
Bill Redfield has been an ordained Episcopal priest and a licensed clinical social worker for over forty years. Working in psychotherapy and ministry over the course of his lifetime, he has always been interested in the intersection of the spiritual and the psychological. Currently, he is engaged in the theory and practice Wisdom Mentoring, a unique way of assisting others in their own spiritual transformations.