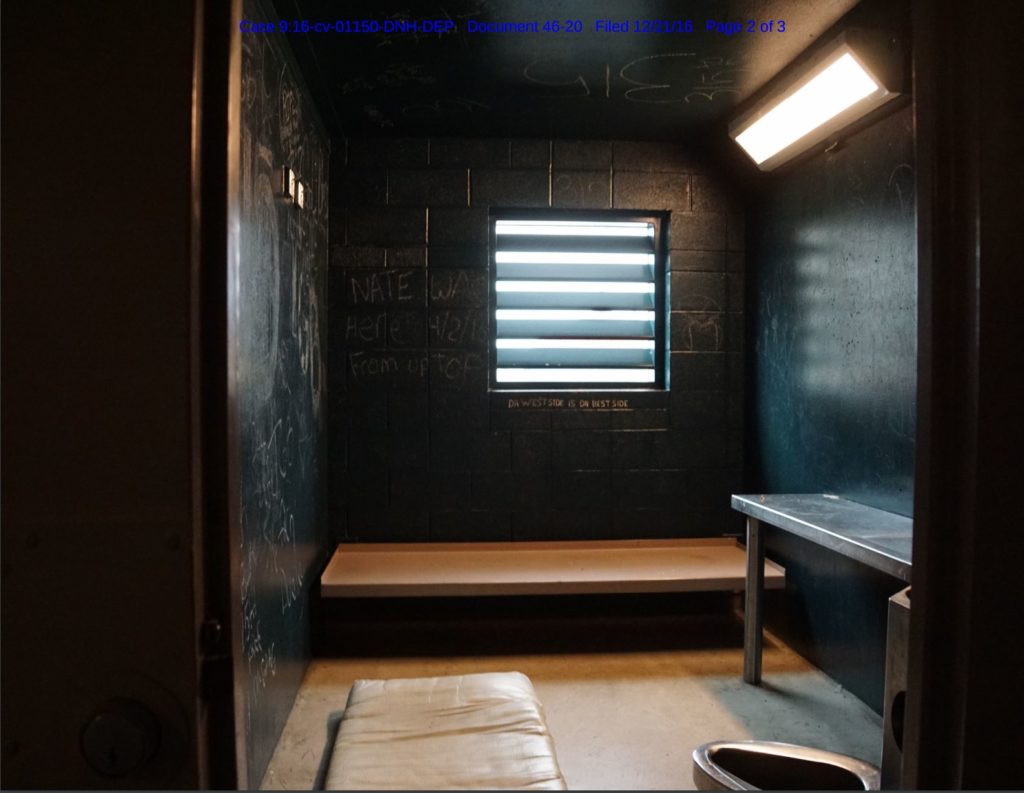 Recently, I became the Jewish chaplain for the Onondaga County jail. A small number of inmates identify as "Hebrews" (the official classification), and I visit them once a week for spiritual counseling, education, and services.

It has become a tremendously rewarding experience for me, one that propels me into an unusual space – what I call a "fact-free zone." But don't misunderstand – it's a beautiful place. This last week, though, it took a major turn.

You see, as a chaplain I have no official power in the system, and I cannot serve as a conduit for individuals between inside and outside. I advise the authorities, offering my opinion as to whether someone should be classified as "Hebrew" or not, and whether their request for a kosher diet seems reasonable. However, the jail has the final say, and they will overrule any denial of mine if they believe it promotes stability in the jail. To be clear, I like this arrangement.

So what do I do? I teach a class in Judaism for the half dozen or so inmates, conduct a brief service, and meet with individuals when requested. Up until this past week, this was a very pleasant (if challenging) task, and I quickly began to experience the absolute humanity of these men. You see, I don't know anything about what brought them there, and since I can't exercise any power over them, I don't need to know the facts behind what they tell me.

Simply put, I take them at face value. I meet them panim el panim – face to face. And until this past week, that was beautiful and, dayenu, it was enough.

Then I met a man, the only one of the group that was born Jewish. The only one who didn't have his status as "Hebrew" for the kosher food. A man who had been in solitary for a week, and had just earned, he told me, another ten weeks of solitary.

When I met him, it was through the two narrow, thick windows of a heavy door. The food slot was locked shut; the slits for passing paper beneath the windows were sealed closed. He was angry – mostly at himself for having lost his temper – but also for the rigid routines that had gone awry that day. You see, inmates in solitary get one hour a day in the exercise cage – the other 23 they spend alone in their cell. He had given up that hour that day to come to my class, but a shift change had disrupted the communication. He had waited powerless in his cell for the release that never came.

After a few minutes of venting, he complained that there was no way we could sit and pray together. "We can pray standing," I said. "Is there a prayer you would like to say?"

"I haven't prayed since my Bar Mitzvah," he said, and then began a broken chanting of the V'ahavta – "You shall love." I chanted with him, and we got through the prayer. Quiet tears streaming down his face, he asked me to translate it for him. "You shall love the Lord thy God with all thy heart…" His eyes glistened through the tears; "I think that's the most beautiful prayer there is," he declared. I raised my hand to the narrow window, barely wide enough for its breadth, and he pressed his hand to the other side. We stood there silently a few moments, eye to eye, heart to heart, soul to soul. Then I spoke.

"Let's say the Sh'ma," I suggested – the watchword of Judaism. He crumbled.
He didn't cry. He didn't weep. He wailed.

He sank to the floor, pain pouring out from him. The sounds carried through the heavy door, his head buried in his hands, his body trembling. And he wailed. For long minute after long minute. I could only stand there, on the other side of the door, my hand still pressed to the window, my own heart breaking.

Finally he stood, face drenched with tears, blurting out, "I can't…" He started to lift his hand to meet mine, and collapsed again. Tortured minutes later, still trembling in pain, I heard him croaking the Sh'ma into his hands. An eternity later, he stood to face me, and his hand met mine. Then he dropped it.

"I'm so alone."

"I know."

"Thank you."

He turned away and sat down on the floor. He let me know the visit was over.

Baruch Atah Adonai, Eloheinu Melech Ha'Olam, Matir Asurim.

Blessed are You, Yah, our God, Sovereign of the Universe, Who frees the captive.