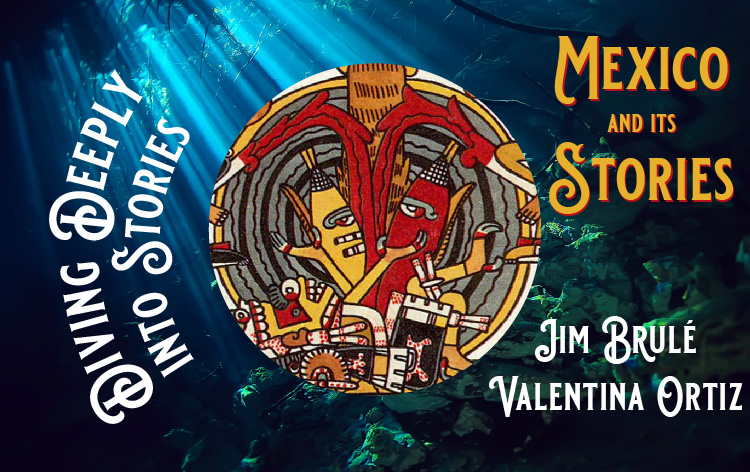 The Diving Deeply series invites participants to explore stories with rich metaphor and mystery, seeking meanings below the surface that often affect the listener – and the storyteller – without their awareness. Participants dissect the stories, their symbols and metaphors, and uncover both the first set of meanings that seem to present themselves and then consider alternative tellings and impacts.
In this series, we dive deeply into the world of the indigenous side of Mexican stories, filled with magical realism and parallel worlds.
This special edition of Diving Deeply into Stories is being offered with Valentina Ortiz and Maggid Jim Brulé. Valentina Ortiz is a storyteller, musician, writer, recording artist, teacher, and humanitarian. She considers herself a citizen of the world, as she tells her stories in English, Spanish or French. Valentina is the magic of Mexican traditions, with their music, native languages, and stories. She is also the flavors of the Caribbean drums; she is the union of the different cultures from the tropics to the mountains. She speaks words of hope, of song and music, of strong women, of responsibility towards Mother Nature and community.
Maggid Jim Brulé is a transformational storyteller, and the founder of the Transformational Storytelling school, of which this program is a part. Brulé also works with organizations and communities to bring the power of storytelling to healing the fractures which so often divide us around race, class, faith tradition, and culture. His two-year program has graduated students from around the world, including several ordinations of Jewish students as a Maggid – a spiritual storyteller in the Jewish tradition.
A limited number of "Pay as you wish" tickets are available.
This is truly a unique experience to dive deeply into these mystical depths.