OARS in the Water: Legacy
December 14, 2022 @ 7:00 pm

-

8:30 pm

EST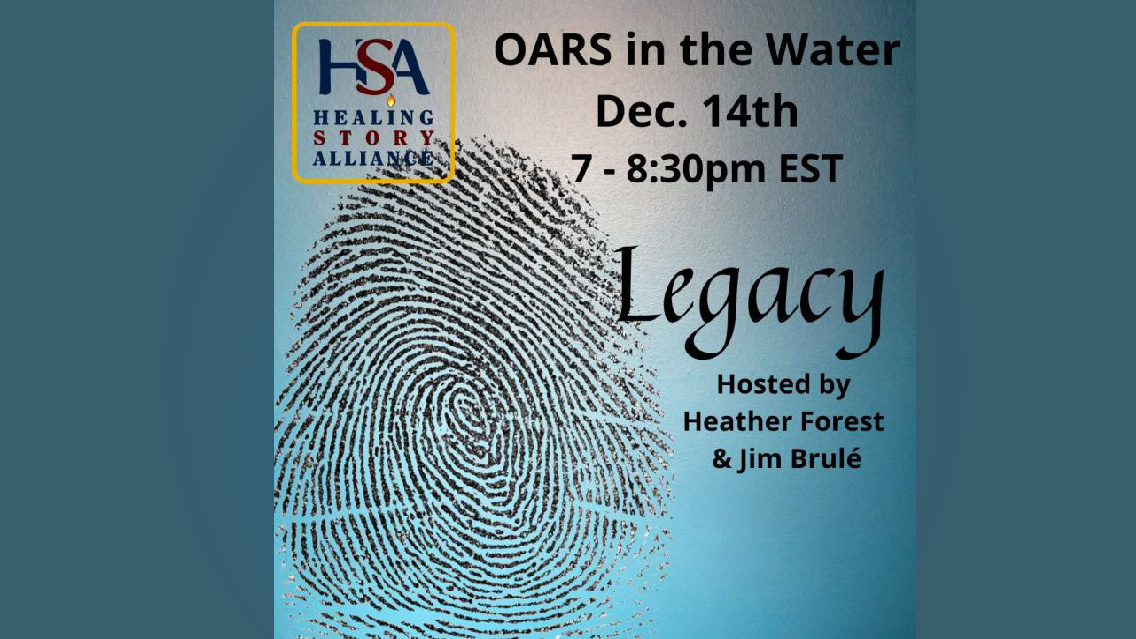 Join us as we explore the wide range of tangible and intangible valuables that are gained during the journey of our lives. Valuables that are evidence of our presence and a legacy we can pass on.
Hosted by Heather Forest & Jim Brulé
OARS in the Water is a facilitated Zoom gathering on the second and fourth Wednesday of the month offered by Healing Story Alliance to create a listening space to share the experiences and stories that have emerged through turbulent times. This is not a therapeutic circle but we do hope it will be healing, supportive and inspiring.
Admission is free, although donations are deeply appreciated and help support our programming. Your tax-deductible donation can be made here:
https://square.link/u/d9xbGN2I
---
About our Hosts for Dec 14th
Maggid Jim Brulé is a storyteller, teacher, coach, and organizational consultant whose experience spans several decades. As a maggid, he creates opportunities for spiritual growth and transformation through encounters with stories, whether in performances, classes, or individual guidance. He also serves as an interfaith chaplain in hospitals, jails, and psychiatric facilities, and is active as a "death doula."
Jim serves on the boards of Northeast Storytelling and Artists Standing Strong Together (ASST), and has delivered programs to storytelling organizations around the world. He teaches digital storytelling at the university level, and has crafted training programs in leadership, collaboration, and issues of implicit bias for commercial, non-profit, and religious institutions. He holds advanced degrees in counseling psychology and computer science (artificial intelligence), and has published books and articles in several fields. He received s'micha as a maggid from Maggid Yitzhak Buxbaum in 2009, and has been operating the Transformational Storytelling program since 2017.
Heather Forest is a modern-day bard and an organic farmer on Long Island, NY. A pioneer in the American Storytelling Renaissance, her repertoire of world tales told in a fusion of poetry, prose, original folk music and the sung and spoken word has been featured in theatres, schools, conferences and major storytelling festivals throughout the United States and abroad. She is an author of seventeen award winning folktale books and storytelling recordings and holds a PhD in Leadership and Change from Antioch University. She is a recipient of the Circle of Excellence Award for her performance skills and the 2021 Talking Leaves Award for her contribution to storytelling literature presented by the National Storytelling Network. She is Executive Director of Story Arts, a Long Island, NY based not-for-profit organization dedicated to the art of storytelling and its educational applications as well as the Chair of the Programming Committee for the Healing Story Alliance.