Virtual Event
Diving Deeply: Fehérlófia Workshop (WhiteHorseSon)
January 10, 2021 @ 10:00 am

-

1:00 pm

EST

Virtual Event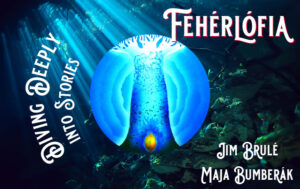 In this 3-hour workshop, we will dive deeply into the world of the Hungarian epic Fehérlófia (WhiteHorseSon), which appears in multiple forms and variations. The Fehérlófia epic dates back to shamanic culture, is filled with magic, along with unique and archetypal characters.
This is truly a unique experience to dive deeply into these mystical depths.
This is the first in a series of monthly workshops, held for 3 hours on Sundays to allow for greater depth and exploration. Foundational materials are provided; the series may be entered without having attended prior classes but will be enhanced for those who continue.
This special edition of Diving Deeply into Stories is being offered with Maja Bumberák and Maggid Jim Brulé. Bumberák is a renowned storyteller and singer based in Budapest, Hungary. She is known around the world for her storytelling, and even more so for researching and reviving the artform of oral storytelling in Hungary. As a scholarship holder of the Hungarian Academy of Arts, she is training teachers and student teachers in oral storytelling.